Can artificial intelligence ever really take over design and communication? Will algorithms rule the world? How much of our human work will be replaced by artificial intelligence? Artificial intelligence gets close to being real — sometimes too close — but it never really completes the task.


George Carlin had a joke where he examined the expression, "near-miss," and said, "Shouldn't that be a 'near-hit?'" Carlin explains, that since it didn't actually hit the target, it was a "miss," not a "near-miss." That's how artificial intelligence and the digital revolution are acting in our lives. Close, but no cigar. Here are a few examples where the "uncanny valley" gets close, but not quite close enough. It's the details and nuances that A.I. doesn't get right that makes our role in design and communication even more critical.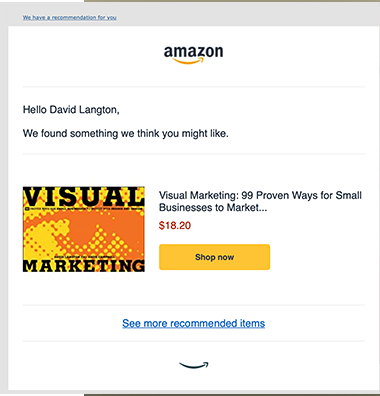 Amazon recommended me to myself.
My most recent recommendation from Amazon was to buy a book I really care about, but that's because I wrote it! It's details like this that A.I. often gets wrong. When our friends get details wrong about us, we fixate over them. We conclude "They really don't get me." And that's how the too close but not close enough actions of A.I. feel when they miss the mark.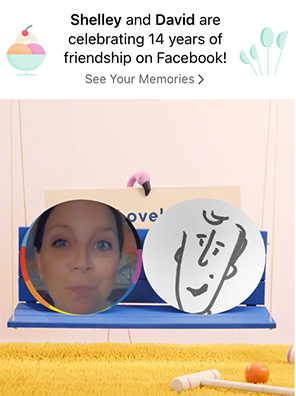 Facebook thinks my wife is a recent friend
Facebook sent my wife and me a "Friendversary" message. It said, "You've been friends for 14 years!" That's great, but we've been married for over 30 years, what is Facebook saying about our relationship? So much of communication and design is now being done on the computer and by the computer. When does human input really matter?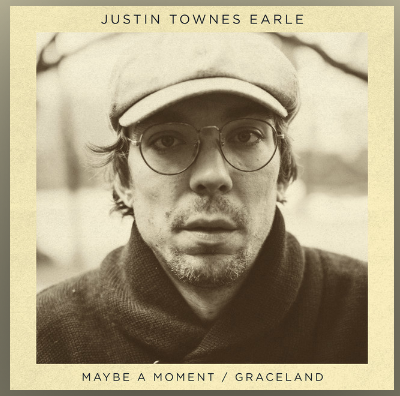 I heart Spotify…but.
I love my Spotify account, I listen to music all day long and can't get over how well the algorithms can select music that I want to hear. Somehow it can collect the choices I play and the songs I "like" and put together the most wonderful playlists…except for a few things that it doesn't get about me. For some reason, after every album selection it plays the same song, "Graceland," the classic Paul Simon song as performed by Justin Townes Earle. Now I love Paul Simon, and I think "Graceland" is a great song, I also enjoy the late great Justin singing this song. But not every day, and not every time I listen to an album. (I've clicked the "Don't Play" button so many times that I'm convinced that it is as effective as the NYC crosswalk buttons that were turned off decades ago.) I don't get how Spotify can continually put this song on repeat. What happened to iterative learning? I just hope that Justin Townes Earle's estate is getting the .004¢ every time it's played.
Thinking as a real person still matters
In the movie, "The Bishop's Wife," David Nivens (The Bishop) has to fight off Cary Grant—an angel who has affections for his wife. The Bishop says, "How can I win a fight with an Angel?" and his friend reminds him that he can win because he is human. The very nature of being flesh and blood, the limitations of not being a perfect being are what make you vulnerable, personable and real. That's what matters.
The other day a client called (yes, a real phone call, not a text or email) and asked if we could print out a sample of the save-the-date announcement we were designing for them. She wanted to see how the invitation folded and determine if the typeface was large enough. I told her, "Of course we can make a comp!" We used to make them for every project, but these days so much is online and layouts are exchanged via zoom in PDFs that we seldom take out the Xacto knife and cut and paste in real life. It's hard to imagine how a triple paneled invitation will be realized when you are looking at PDFs on the screen. The client really benefited from being able to hold the invitation and experience how it will feel to get a real one in the mail.
The reality is that we will build upon the increasingly more accurate A.I. tools but we still need to provide the real intelligence. We need to be aware of the nuances. The human insight is needed to be sensitive to the details that really matter. Here's where the human input really factors in:
Intuition
A.I. may have past experience but it doesn't have intuition. Maybe it's not the intelligence that is "artificial" but rather the feelings that are. (Perhaps we should start calling it "A.F.") We need to use our hunches and experiences as living, breathing people to make sure our communications are really on point.
Quality control
Many people think that quality control is all about the technology, and yet even as spellcheck tools get better they still can't decipher the myriad of ways the human brain and heart can speak. You have to read it through, check names, allow for personal style and make sure your communication writing actually says what you what it to say.
Strategic thinking
At the end of the day, it's all about the strategy. Who are you trying to reach, why is this important now, how can you connect in a meaningful way with your prospects? Your A.I. can generate a lot of stats and probabilities, but it can't answer any of these critical questions.
Intuition, quality control and strategic thinking are just not part of the A.I. capability. We need to be the one who bats in the winning run and finishes the job. So far there's a lot of room for improvement. In the meantime, "I'm going to Graceland…."
Back to Insights