"We told them what our show was about and they designed solutions that fit with what EdCast means to us and to our audience," – Dr. Linda Hirsch, host and writer, EdCast


"EdCast," the CUNY TV program produced, written, and hosted by Hostos Professor Linda Hirsch, is the recipient of two 2021 Bronze Telly Awards in the Television General-Education category for excellence in television broadcasting. We are reprinting this story to celebrate the success of Linda and her team.
Sharing the benefits of design thinking with the next generation of designers is an important value at Langton Creative Group. It's not just about the visuals, but the ideas behind the optics that really matter. In this case study, Langton Creative Group's David Langton and Jim Keller guided students through the design development of CUNY TV's EdCast opening credits.
Opening credits can set the tone for a show and establish a visual language that promotes the show and establishes the right feeling for a program. EdCast, a Telly Award-winning monthly cable program dedicated to the most pressing education issues of the day, is hosted by CUNY Professor, Dr. Linda Hirsch of Hostos Community College. She wanted to upgrade the visual presentation of the show and turned to the Hostos College communication design class led by David Langton, adjunct professor and president of Langton Creative Group.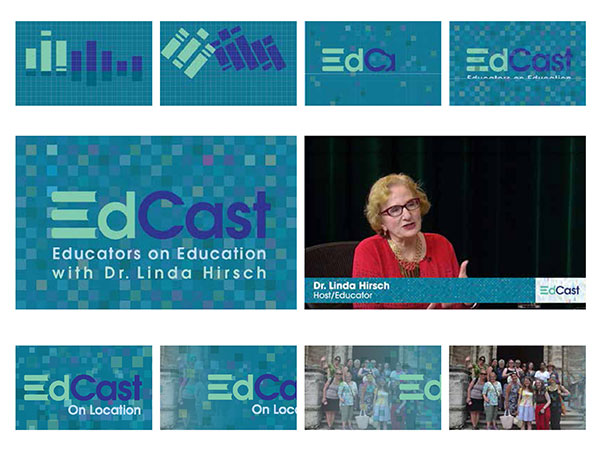 New Opening Graphics for CUNY TV's EdCast developed by students at Hostos College/CUNY under the direction of adjunct professor David Langton.
The class met with Dr. Hirsch and her producer, Jerry Barnard of CUNY/Lehman College, to discuss the objectives of the new graphics. The class was asked to develop a new set of graphics for the EdCast show that includes the opening credits sequence, transitions between segments, and on-screen graphics. Dr. Hirsch told the class that the graphics must reflect a news/talk theme with an emphasis on education. EdCast brings together a diverse set of viewpoints to tackle these issues and make them accessible to viewers.
Dr. Linda Hirsch, Professor at Hostos College and host and writer of CUNY TV's EdCast, provides feedback to Corey J. Paniaqua.
Real clients with real issues.
Many of the most important civic leaders, educators, and authors have discussed critical issues such as mayoral control of New York City schools, charter schools, arts education, restorative justice, poverty's effect on learning, and literacy development. The students learned what it was like to work with a real client with real opinions and real needs. The students saw first-hand how graphic design solutions could be connected to the client's objectives.
"We told them what our show was about and they designed solutions that fit with what EdCast means to us and to our audience," says Dr. Hirsch. The music needed to be appropriate for the educational theme of the show. Each student presented a graphic solution with theme music recommendations. Dr. Hirsch and Mr. Barnard provided feedback and returned a few weeks later to participate in a refinement presentation that served as the final project for the term.
The selected design reflects the theme of education
They chose Corey J. Paniaqua's design solution. The selected design reflects the theme of education with a set of books that transforms into the new EdCast logo. Corey then worked with Jim Keller, design director at Langton Creative Group, to produce the final design which was produced in After Effects by Veneta Palagatsheva a recent graduate of Lehman College.
EdCast is broadcast on CUNY TV, showtimes and topics may be seen at: http://www.cuny.tv/show/edcast
Back to Insights