Build a simple website for your nonprofit or start-up.


"Less is More" sounds like a cliché, so why isn't it adhered to more often? Comedian Mike Birbiglia mused on his podcast recently that one of these days, we'll get a better word for "cliché." If it is really true, is it even a cliché? We spend a lot of time editing and refining our communications to focus the messaging on the essentials. "Today's reader doesn't read, he glimpses," said Lucian Bernhard back in 1929. And it's only gotten worse.
With that in mind, we have created a website prototype for small nonprofits or start-ups. It has all the basics you need. The challenge becomes how to tell a captivating story in limited spaces.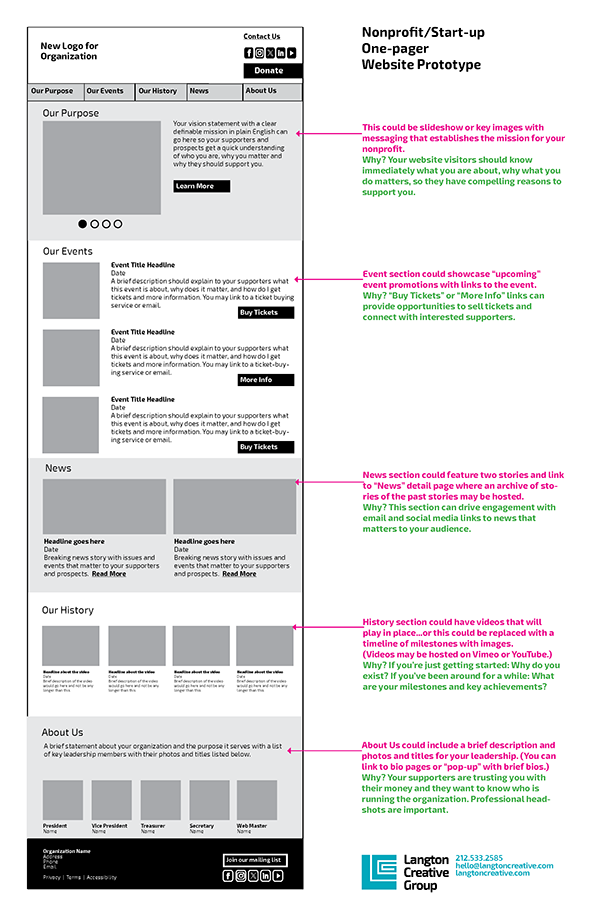 1. Our Purpose
This is often referred to as the "Top of the Fold" section and the place for the main messaging area on your site. Define who you are, what you do, and who you serve. Keep it simple. Use a few images or a 15-second video to tell your story.
2. Our Events
Do you host an annual gala or workshops? Do you attend community events? This is an opportunity to tell your audience what matters in the community with quick links to ticket-buying or a blog post about the event. We place this high on the page because events are important to your audience…and it gives your site fresh content.
3. News
This is another opportunity to keep your website fresh and up-to-date with new content related to your mission. Post stories that matter to your supporters, and link them in email newsletters and on social media. Use this space to define further who you are and how you think. You should include thought leadership articles and avoid employment announcements that may come across as self-congratulatory. You may also include "success stories" and updates on projects that relate to your organization's mission. A live Instagram feed is a good way to keep your website up-to-date—as long as you regularly post on Instagram.
4. Our History
History is written by the victors, or in your case, by you. Post short videos or select photos of milestones that matter. It should not be nostalgic. Write your history with an eye on the future. How do these accomplishments position you to better meet your strategic goals in the future?
5. About Us
Even though this section is positioned as the "last tab" on the top right, it plays an essential role because it supports everything you do. Supporters want to know who the people behind the organization are that they are investing in. Professional headshots and a brief biography show the viewer that you care. One of the first things we do when evaluating an organization is to see who the leaders are, what their backgrounds are, and what they believe in. A brief biography should provide this critical information for your prospective investors and donors. Professional headshots with a consistent background show that you are all from the same organization. You don't need "glamour" shots, but you do need more than a snapshot. The leaders are the faces of your emerging organization. You may link to LinkedIn pages and update the photos and background images there to build more consistency.
6. Headers and Footers
The top of your website should include a professional logo or a clean typographic treatment. You should include social media links only if you intend to keep them up to date. If you do not have the staff to update your social media pages at least once a week, then do not include them. Include an email sign-up so you can start a monthly email announcement to keep in touch with your key supporters. You can promote news features and post them in the news section.
The one-page website solution is a great way to get started, and it's more challenging than it seems. You have to write succinctly and capture the essence of your organization in carefully selected photos, headlines, and captions. Keep in mind one of my favorite Mark Twain sayings, " I would have written a shorter letter if I had more time." And even though reports of Mark Twain actually saying this are exaggerated, it's still good advice.
Back to Insights