We are proud to announce that we won two 2022 American Digital Design Awards!


The Legal Aid Society LGBTQ+ Policy and Law Unit: Infographic.
After 15 years of support, the key funder for the LGBTQ+ Unit on Policy and Law was stepping down. The LGBTQ+ Unit provides critical support to over 2,000 public defender lawyers at the Legal Aid Society. They set standards and protocols for how LGBTQ+ people are treated in the criminal system and offer essential support to and advocates on behalf of LGBTQ+ people.
Our design of the Infographic synthesizes the key initiatives, stats, and strategies that represent the comprehensive and critical work underway on behalf of LGBTQ+ people and their supporters. Erin Harrist, Supervising Attorney at The Legal Aid Society, said, "It was a very eye-opening experience. We gave the designers so much material and they were able to distill it into content that really resonates with potential funders."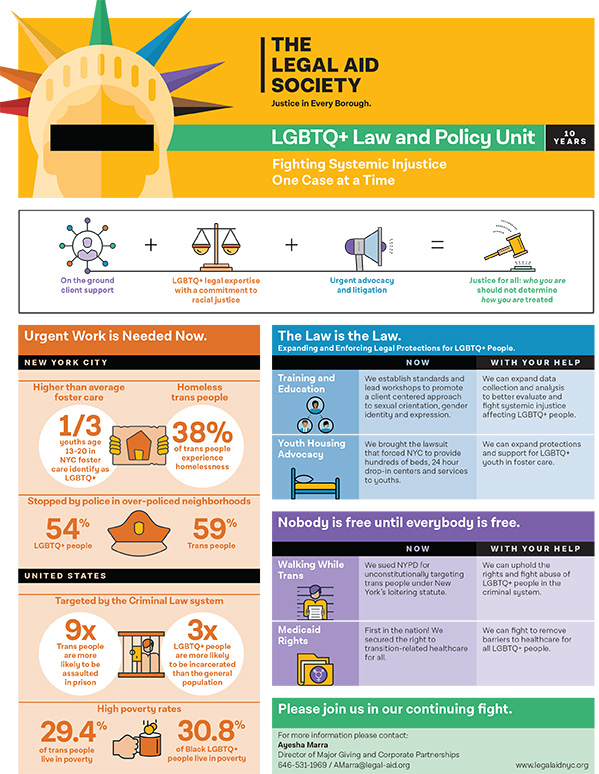 Arizona State University Music Theatre + Opera: Speed Dating Tonight Social Media Graphics
Covid did not stop theatre from being performed at ASU but it did create some new hurdles for Speed Dating Tonight to be performed virtually and within quarantine guidelines. During the pandemic, graphics for virtual and hybrid shows became even more important.
Speed Dating Tonight is a simultaneously zany and poignant look at how challenging the search for authentic relationships can be. This was heightened during the pandemic that isolated so many people. Janine Morita Colletti, the director, described the production as, "The show examines how essential connections are for the human experience, and how innately bad we are at expressing ourselves when searching for it."
Jim Keller created a neon-like continuous graphic that captured the spirit of a musical about people making quick connections as they seek that spark of life. The artwork was adapted for website and social media usage.
About the America Digital Design Awards
The 22nd annual American Digital Design Awards recognize excellence in digital design including websites, social media, email marketing, digital advertising, interactive and interface design, video and animation, 3D and the Metaverse, and more. There were nearly 2,400 submissions. Only the top 10% were selected as winners.
Back to Insights