With a new name, logo, and website, this nonprofit is positioned for growth.


"Now I let the tagline speak for the Foundation. Previously we always used to feel like we had to explain who we were. The new brand reinforces that we are about Treatment, Research and Education to end Obesity," says Michael Votta, Executive Director of TREO. The TREO rebranding comes as the obesity rate in the U.S. stands at 42.4%, an all-time high, with no signs of slowing. By 2030, half the adult population is on track to have obesity, and nearly 1 in 4 will have severe obesity. In its 25 years, the foundation has raised over $2 million to support critical research, advocacy, and education on severe obesity and metabolic and bariatric surgery. Votta adds, "The BrandTwist/Langton Creative team did a phenomenal job of grasping who we are and who we want to be." The naming and brand strategy was led by Julie Cottineau of BrandTwist while Langton Creative Group designed the logo, website, and communication program.
"Clearly new strategies and approaches are needed to turn back an epidemic that is only getting worse and affecting the health of more than 100 million Americans," says Carl Pesta, DO, FASMBS, President, TREO Foundation. "The TREO Foundation has an important role to play in bringing much-needed attention and funding to obesity research and education that leads to greater utilization of the most effective treatments, including metabolic and bariatric surgery."
TREO Foundation is launching a new website that describes current and future scientific research, awareness, and advocacy activities, including the Walk from Obesity, which celebrates its 20th anniversary this year. The foundation will also hold its annual LEAD Awards Gala on June 28 at the ASMBS 39th Annual Meeting to recognize leaders in the field of metabolic and bariatric surgery for excellence in clinical care, nutrition, innovation, and lifetime achievement.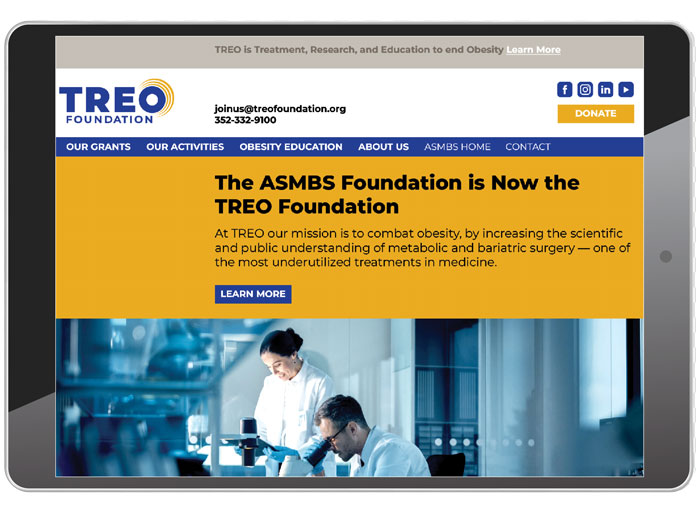 See the website at treofoundation.org.
Back to Insights